Mini plum JOY F1: small size , big taste!
SAIS has increased its range of fresh market tomatoes with JOY, the mini plum with high taste.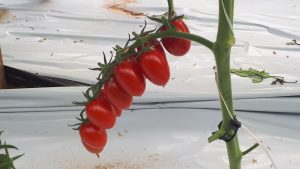 Pomodoro JOY F1: coltivazione a Vittoria (RG)
The variety is vigorous, with medium leaf coverage, suited for transplanting in late summer/autumn for winter indoor production. Joy shows a good tolerance to cracking even in the worste periods of the year.
The growth is very regular, with short internodes. The variety is easy to be cultivated and to manage.
The cluster is long, very elegant with medium-little fruit, oval shaped and very deep and bright red .
The yielding is high thanks to:
easy fruit setting even at the top;
regular size until the end of production;
low waste ( high tolerance to carcking).
During the production season 2018/19, SAIS asked for product evaluation from outside company, that focused on fruits harvested in four periods from December to the enf od April. Each analysis has been repeated two, seven and ten days after harvest in order to understand the shlef life of the fruit and its features.
Joy reached the following results:
low waste percentage at the harvest timing and low development of difects duirng shelf life;
high brix and high ratio brix/acidity;
very intense and bright coloring (stable all production long);
high livel of sweetness, sapidity, tomato aroma and high liking at the panel test .
So tomato Joy resulted an excellent choice for yield, management of the plant and quality of the production.
For any further information, please contact our commercial office at +39 547 384250.