CHERRY TOMATO MYGLIORITO F1: SICILIAN HARVEST CONTINUES
The harvest of cherry tomato Mygliorito F1, transplanted at the end of August, continues at full capacity in East coast of Sicily (Ragusa area).
After two years of development, the Sais tomato confirms to be a valid alternative to the classic varietal proposals, thanks to resistances, high yielding and high sugar level that brings again the added value of taste in cherry tomato market.
The plant is rustic, easy to be cultivated. The growth is regular with short internodes that allow an easy managment of the plant even in warm period.
The cluster is long with medium size fruits so high yielding is guaranteed.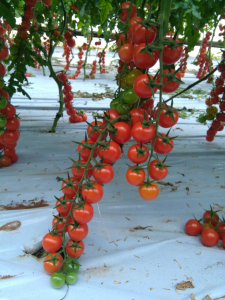 Good tolerance to cracking on the plant and in post harvest.