Salad tomato: our proposals
R& D dept. of SAIS proposes for this campaign 2014/2015 two new varieties of salad tomato that complement our historic varieties as Kallyspera F1 already known for the high quality of the fruits in term of taste, shelf life and production.
The new varieties blend technology and quality thanks to the introduction of intermediate resistance to TYLCV.
111SA202 F1: Early cycle, vigorous plant with high yielding. Suited for greenhouse cultivation in salty conditions. Round fruit, dark green colour with marked shoulder, deep red at ripening. Average weight 70-80 g. Excellent taste and shelf life.
HR:ToMV/Fol:0,1/For/Va/Vd IR:TYLCV/Ma/Mi/Mj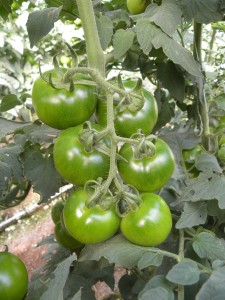 112Sa408 F1: Early cycle. Medium vigorous with short internodes. Suited for cultivation in "counterseason" in salty conditions. Flat and ribbed fruit, dark and bright green colour with marked shoulder. Medium big size. Excellent taste.
HR:ToMV/Fol:0,1/For IR:TYLCV