ROUND TABLE WITH A DELEGATION FROM UZBEKISTAN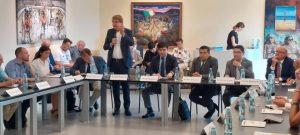 Our company took part to the round table led by the Uzbekistan's Minister of Agriculture, Mr Aziz Voirov, guest of Macfrut at Cesena Fiere on 24/07/23.
The focus of the round table was to foster trade relations between the 2 countries in the food farming industry.
Sais has already entered the Uzbek market for years. The event was of high interest for all the attendees.